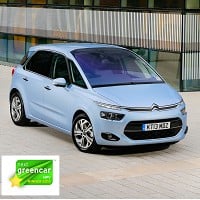 The new Citroen C4 Picasso has been named the Best MPV at the 2013 Next Green Car Awards.
Coming just a month after the vehicle's UK launch, the C4 Picasso saw off competition from the Fiat 500L and the Nissan Note to bag the top honour.
Fuel efficiency was key to the win, with the new C4 Picasso boasting a class-leading fuel economy of 74mpg and emitting CO2 emissions of just 98g/km.
For motorists studying ajourney planner , envisaging what distance they will cover on a full tank, the car certainly more than holds its own against its rivals.
"We have been very impressed by the new Citroen C4 Picasso which not only offers families an attractive, responsive, economical compact MPV but also should be congratulated for being the first conventionally-powered MPV to break through the 100g CO2/km barrier with the resultant efficiencies," said Dr Ben Lane, managing editor of Next Green Car.
Prices for the award-winning e-HDi 90 Airdream ETG6 model start at £20,155.
Copyright © Press Association 2013