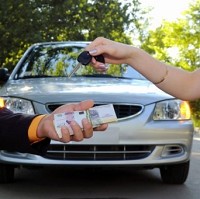 Consumers hoping to snap up a used car bargain next month have been warned about the 'bangers masquerading as bargains' expected to flood the market.
Thousands of British motorists are preparing to purchase the latest vehicles sporting the new 13 series registration plates in March, which could spark a scramble for used car bargains.
However, vehicle expert HPI urged drivers to be cautious should they decide to enter the used car market, with one in three used vehicles said to have a hidden history.
HPI said motorists should check that all the documents match, while also remembering to budget for all running costs such ascar insurance , road tax and servicing.
Other things to keep an eye out for include excessive wear on the steering wheel and gear stick, while non-original car keys could indicate the vehicle has previously been damaged or stolen.
Nicola Johnson, HPI's consumer services manager, said: "You could face some very real bad luck if you buy a banger masquerading as a bargain.
"However, by taking a few simple precautions, you can avoid being conned out of your hard-earned cash by unscrupulous sellers out to make a fast profit."
Copyright Press Association 2013