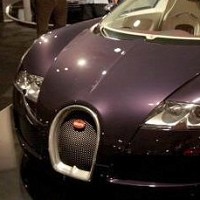 Newly-crowned Formula One world champion Jenson Button is selling his black Bugatti Veyron supercar for just short of £900,000.
The eight-litre, 16 cylinder car has only 1,500 miles on the clock and is described by the Auto Trader website as "complete with all the usual refinements for a £1,000,000 supercar".
It says: "Recently serviced by Bugatti, 2 owners, 2nd being a current Formula 1 driver. Will be authenticated. In absolutely stunning condition."
After it attracted little interest when first advertised in August, it may now lure potential buyers anxious to buy into the glamour of F1's supercharged dream.
It can accelerate from 0-62mph in just 2.5 seconds, and features ingenious aerodynamics that enable it to reach a top speed of 253mph.
The Team Brawn star clinched the title following an exciting race on the Interlagos circuit in Brazil on Sunday when he came fifth, giving him enough points to take the crown from fellow Briton Lewis Hamilton.
Copyright © Press Association 2009