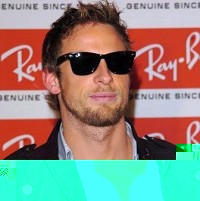 Former British F1 star Nigel Mansell has defended the country's latest racing hero Jenson Button against accusations he holds his current dominant position due to his car, not his talent.
The question of whether it is the technology or the man that leads to motor racing victory has plagued the sport for years.
And Button's 26-point lead in the drivers' championship, compared to his previous 'difficulties', has only reignited the debate.
But despite 1992 world champion Mansell describing Button's Brawn GP car as "straight-out-of-the-box magical", he said the 29-year-old was driving better than he had at any other time in his nine-year F1 career.
However, a modest Button was quick not to take all the credit for his unprecedented good form.
"I'm the guy driving the car, but there are 400-odd people building it and putting it together, and we work together. It's a team effort, and that's what Formula One is," he said.
Asking Button what he would have said if, just after Honda's withdrawal from the sport, someone had told him he would head to Silverstone with six wins and a 26-point cushion, the racing star joked: "I'd have said 'thank you very much, I'll take that'."
Copyright © Press Association 2009