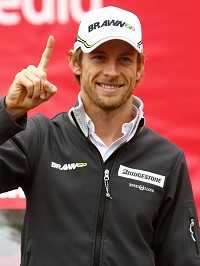 Formula One team owner Ross Brawn is 99% sure that the newly-crowned Formula One champion Jenson Button will remain with the Brawn GP team next season.
Brawn, who was asked by BBC Radio 5 Live whether Button would be on the team, said: "You're never 100% - but I'd say 99%."
"Jenson's obviously a great driver, so he's got to be a target. We want Jenson to stay in the team, and I think we'll find a solution."
Button agreed to a £5 million-reduction in pay after former team owners Honda withdrew last December. He even paid for his travel and hotel bills.
However, a change in his contract seems imminent, and Brawn expects the matter to be resolved within a fortnight of the close of the Abu Dhabi Grand Prix.
Brawn told the BBC Radio 5 Live Sportsweek programme: "Jenson has a contract with us. But that contract is not the salary of a world champion, not the salary of a team that is in a much stronger position than it was 10 months ago.
"We're working with Jenson to find a balance between what we can afford and what he feels is fair for his status and the contribution he can make in the future."
Copyright © Press Association 2009