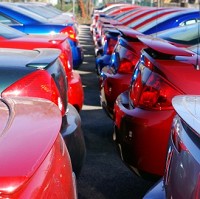 Ronnie Black, a car salesman at Blackshaws Nissan in Alnwick, has sold 10,000 motors in 29 years, even though he has been part-time for much of that time with a second job as an ambulance driver and paramedic.
Mr Black, who has now retired as a paramedic, currently works full-time at Blackshaws and is set to celebrate his 30th year of employment at the firm.
He said: "I've thoroughly enjoyed both my careers and I wouldn't have wanted to miss out on either. They've both been really rewarding in different ways."
He explained that while working unsociable hours as a paramedic, he decided to keep busy when he got home by finding another job.
During his time as a salesman and paramedic, he has occasionally sold cars to people he has helped during emergencies, including a woman he delivered as a newborn baby and a man whose life he saved after a road crash.
Mr Black said that having been born and raised in Alnwick meant he had lots of local connections, and working as a paramedic gave him even more.
He said: "When people know you and trust you they come to see you first when they need a new car and, if you're polite, friendly and never pushy not only will they buy from you but they'll keep coming back."
He added that the local reputation of the firm, whose history goes back a century, is also an asset to his work.
Copyright Press Association 2013