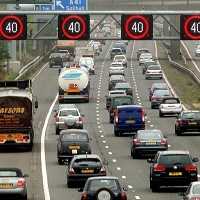 Around 16 million cars will take to the roads over Easter as people get away for the extended weekend.
The RAC expects to see four million motorists travelling on Good Friday alone, followed by 4.5 million on Easter Sunday.
Highways England, formerly the Highways Agency, will lift more than 550 miles of roadworks on England's motorways and major A roads in a bid to ease traffic and keep journey disruption to a minimum.
Restrictions will be lifted from 6am on Good Friday until the end of Easter Monday at hundreds of sets of roadworks, although lane restrictions or temporary speed limits will remain at 69 locations nationwide for safety reasons.
Trafficmaster predicts the A303 westbound through Hampshire, Wiltshire and Somerset will be among the top five busiest stretches of road, as will the M5 from junction 15 north of Bristol towards junction 31 near Exeter.
The M6 through the West Midlands from junction 4A northwards towards Lancashire at junction 21A; the M1 from junction 6A at the M25 interchange to junction 13 east of Milton Keynes, and from junction 23A in Leicestershire to junction 32 south of Rotherham; and all sections of the M25, especially both ways around junctions 14-17 by Heathrow Airport, are also expected to see heightened traffic.
Copyright Press Association 2015