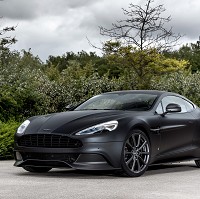 A German businessman has created his own bespoke luxury sports cars from a blank canvas.
Aston Martin's Vanquish Coupes were constructed to collector Markus Storck's specific requirements.
Buying a car does not come much more individualised than Aston's Q service. It's a personalisation service whereby motorists tell the manufacturer exactly how they want their vehicle.
The good news for Mr Storck, an avid sports car fan, is that there are another six tailor-made models to come to fulfil a long-standing dream.
He is "absolutely thrilled" that his vision for a mini-collection of bespoke Vanquishes has sprung to life.
Mr Storck, head and founder of hi-tech cycle maker Storck Bikes, praised Aston Martin Q team's exceptional "dedication", "service" and fine eye for detail. He called the results "outstanding".
Aston Martin's VIP sales and Q service general manager, Matthew Bennett delivered the first coupe at a special event staged at Aston Martin's luxury Gaydon headquarters in Warwickshire.
Mr Storck commissioned the luxury marque's Q team to create the seven Vanquishes, one for himself, the other six for other sports car fanatics.
His magnificent seven are tipped to eventually attain "collectors' item" status in the years ahead.
The new stable contains a vast spectrum of lavish bespoke features. These include a select external finish with multiple carbon fibre layers interwoven into a velvety finish.
The end result - mixing jet black-coloured paint with exposed carbon - required the British manufacturer to come up with a completely new method to its traditional production procedure.
Seat diamond quilting, glossy black style supplements, head restraint-perforated customised logos and machined carbon brand wing badges also add to the cars' individuality.
Mr Bennett, commenting on Mr Storck's sports car commission, said the latest order typifies exactly the kind of heights that Aston Martin's personalised Q service can deliver.
He says they were created from blank canvases from the vision in the client's mind to the reality of the first Vanquish handed over.
Copyright Press Association 2015