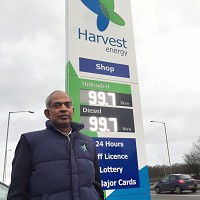 Drivers in the Midlands have received an early Christmas present after a local businessman dropped diesel prices below the £1 a litre mark.
Three independent filling stations in Walsall, Redditch and Birmingham had the price at the pumps slashed by 3p overnight in what experts believe is the lowest UK forecourt price since the economic crash.
RAC Fuel Watch spokesman Simon Williams says: "It's great that motorists in the Midlands are the first in the country to benefit from £1 a litre diesel and it's also good to see that it's an independent filling station that's beaten the supermarkets to this landmark."
Businessman Velautham Sarveswaran, who owns the three forecourts, says his customers are understandably "very pleased" by his Christmas spirit.
He explains that he cut prices to achieve more fairness at the pumps after diesel customers asked why, with petrol dropping to under a £1, they had not been seeing a similar fall.
At one of his garages, there is a 65%-35% split in favour of diesel consumers, while at his other two sites there is an equal number of diesel and petrol users.
The former civil engineer says he wanted to give people an early Christmas present to thank them for all their custom.
Mr Williams hopes supermarkets will follow Dr Sarveswaran's lead.
"The supermarkets had the scope to cut diesel to below £1 a litre a week ago as the wholesale price has been low enough for this to happen for the last two weeks," he says.
"Maybe this will be the spark they finally need to make the move and treat diesel drivers to a Christmas fill-up at under £1 a litre for the first time since the spring of 2009.
"As the supermarkets pride themselves on providing the cheapest fuel in the country, it's hard to understand why they've held back on reducing diesel pump prices faster and more substantially. The only plausible explanation is that they are using the saving in the wholesale price of diesel to make up for the thin margin they are making by keeping petrol at sub-£1.
"One unnamed supermarket has been reported in the media today as saying £1 a litre diesel will be a reality in the new year. However, the data that RAC Fuel Watch monitors - which is the same as the retailers use - clearly shows this is possible before Christmas."
The latest wholesale market data shows that the price of diesel has dipped below that of petrol for the first time since September 2015.
Dr Sarveswaran, who intends to keep prices low for the next three weeks or so, says diesel drivers can expect to save an average of £1.20 on each full tank of fuel bought at his stations.
Copyright Press Association 2015. Motoring News articles do not reflect the RAC's views unless clearly stated.