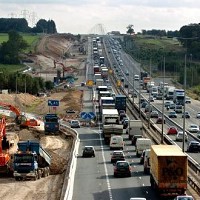 Most companies share motorists' concerns about the state of Britain's roads, according to new research.
A poll of more than 700 companies by the Confederation of British Industry (CBI) has found that nearly two-thirds are worried about how slowly infrastructure projects are progressing.
John Cridland, director-general of the CBI, says the majority of firms believe that new roads and other infrastructure projects are not being built fast enough.
The Government set up the National Infrastructure Commission (NIC) earlier this month in a bid to accelerate the country's transport network, especially in Northern England.
But many firms think that no essential improvements will be seen between now and the end of the decade. Mr Cridland says the UK's arteries in 2015 are already being pushed to the limit.
He claims that businesses want ministers to find solutions to crowded airports, jammed roads and creaking railways more quickly.
The Government is also struggling in its attempts to keep pace with digital links as well as the energy needed to keep them going, he says.
Nearly every company polled claims that infrastructure quality is a prime consideration when it comes to investment decisions.
The CBI's concerns echo those of private drivers unearthed in this year's RAC Report on Motoring, which was published last month.
Drivers said that the state of local roads topped their worry list with exactly half claiming that they had got worse in the past year alone.
The CBI official says that firms are heartened by the introduction of the NIC and other Government moves. But there is still an urgent requirement to address outstanding "thorny issues", he added.
Mr Cridland wants better continuity and planning in the future when it comes to seeing through vital infrastructure initiatives. This means getting the appropriate skills ready to spring into action the moment a project is approved, he says.
Chancellor George Osborne says the NIC will be a politics-free organisation to decide which major infrastructure projects get the go-ahead. The Commission will report back to the Government every five years with a list of schemes most urgently needed.
Copyright Press Association 2015