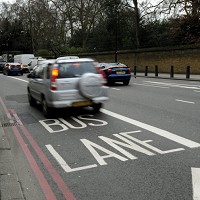 Motorists who stray into designated bus lines are three times more likely to be fined than at the start of the decade, figures obtained under the Freedom of Information Act reveal.
The number of fixed penalties for this misdemeanour reached 1,062,501 last year - so far netting £30,005,959 - compared to the 321,000 motorists punished five years ago. Many fines are still being contested.
Average tickets range from £130 in the capital to £60 outside London, with payments halved if the invoice is settled early.
The RAC has called on local councils to look again at their bus lane processes, claiming the new figures prove the enforcement procedure is now "broken".
It cites several cases where drivers have been punished for unselfishly using the bus lane to enable emergency service vehicles to respond to calls.
The research also shows over a tenth of such tickets are being dished out for using the lanes between 7pm and 7am when no buses are in operation across several areas. Poor road design and sub-standard signs are also catching out motorists.
Simon Williams, spokesman for the RAC, said: "Such a steep increase in fines shows that the present system is broken.
"Motorists don't set out to deliberately flout the law when it comes to bus lanes - the majority accept that they are there to keep traffic flowing efficiently. It's very often poor signage or road design that leads motorists to accidentally commit the offence of driving in a bus lane.
"Councils also do themselves no favours by enforcing bus lanes through the middle of the night when traffic volumes are minimal. This is counter to common sense, and the only reason for it must be to raise money. Where is the logic in having a bus lane open at 3am?
"We urge local authorities to review their bus lanes, particularly those that have raised the most revenue in fines, to check that signage is as clear as it can be and that they are open only at times when traffic volumes demand it.
"We need to put to an end, once and for all, to motorists being caught out by simply missing a single traffic sign when there is so much else to consider when at the wheel."
Drivers are more likely to receive a penalty in Glasgow than anywhere else, the statistics suggest. Its local authority issued the most bus lane contravention tickets last year with 131,238.
Coventry, Sheffield, Manchester, Nottingham, Leeds, Bradford, Birmingham and Bristol also feature in the most prolific bus lane ticket-issuing local authorities.
RAC Foundation director Steve Gooding said: "A good bus lane network is not one that generates a million penalty notices."
Mr Gooding, who used to be the Department for Transport's (DfT) roads director-general, added: "Schemes need to be clearly understood, make sense to road users and have proportionate enforcement."
Nearly a third (16) of the 50 local authorities giving information for The Times study have been enforcing the bus lanes since the start of the decade.
A Local Government Association spokesman said that bus routes remain key to Britain's high streets regaining their prosperity once more.
Copyright Press Association 2015