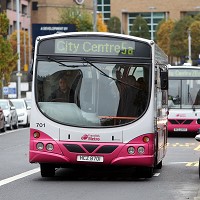 Transport Minister Danny Kennedy has apologised to motorists in Northern Ireland wrongly issued with penalty charge notices.
A total of 118 incorrect penalties that were handed out between June 22 and July 21 have been cancelled due to a fault with Belfast's bus lane cameras.
Another 612 tickets have been cancelled even though the drivers did commit an offence.
Mr Kennedy has launched an independent review into the issue, which he describes as "unacceptable".
Six bus lane enforcement cameras were introduced in the city centre at the start of June to prevent the illegal use of the public transport corridors. But some of the tickets were marked with incorrect times.
Bus lanes only operate during certain periods, outside which motorists are allowed to use them. In 118 cases, the motorists had used them correctly but the time error meant it said they had used them incorrectly.
In the other 612 cases where motorists used them incorrectly, because the time stamp on the penalty notices corresponding to each contravention was inaccurate, they have consequently been cancelled.
Mr Kennedy has apologised for the fault, which has now been fixed.
He says all motorists involved will be notified in writing and any monies already paid will be refunded. The penalty is £90.
There are over 50 kilometres (31 miles) of bus lanes along the major routes in Belfast and the city centre. The times of operation differ though, as stated on the signs at the start of each bus lane.
NSL is the company responsible for traffic management across the city. But its role is to be scrutinised as part of the independent review, as will that of the Department for Regional Development.
Copyright Press Association 2015