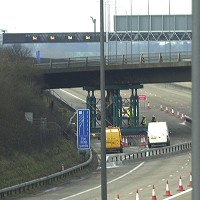 A bus driver was inches from death after a 10kg tub of adhesive was dropped from a motorway bridge onto his moving vehicle.
The tub shattered the windscreen and hit the 60-year-old at the wheel of the single decker near junction 6 northbound on the M80 at around 9.50pm on Saturday evening.
The adhesive smashed the bus's steering column, leaving the driver with no real control over the vehicle, but he was able to decelerate and pull the vehicle on to the hard shoulder.
The driver suffered only minor injuries but was left badly shaken by the incident, police said.
Officers are scouring CCTV footage in the search for the perpetrator, and believe the tub of adhesive was stolen from a nearby building site.
Chief Inspector Glen Bland from Strathclyde Police said: "It is no understatement to say that it is only sheer luck which stopped this incident being much worse and the driver counts himself lucky that he was not severely injured or killed as a result of this completely senseless act on one of Scotland's busiest roads.
"It's to the driver's credit that he managed to avoid other vehicles and stop the bus at the edge of motorway."
Copyright Press Association 2012