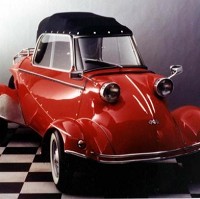 Bubble car enthusiasts have been in for a treat at a special gathering at Beaulieu National Motor Museum.
Fans at the New Forest saw over 50 of the models on Saturday. A rally of the Messerschmitt-crafted machines, built from 1953 to 1964, saw owners from Germany and Holland display their cars.
Spectators also saw several of the Tigers sold in Britain.
These distinctive, snug micro-cars, which were originally built to bring affordable vehicles to the masses, are today worth over £100,000, according to the museum.
The day was also a tribunate to Messerschmitt Owners Club (MOC) president, racer Ken Piper.
Portsmouth-based Mr Piper, who won several events in his Messerschmitt, admits that - with speeds hitting 100mph - he was afraid to look. But Mr Piper can no longer afford to buy one, he said.
Car experts generally lay the blame for the bubble car's demise firmly at the hands of the new Austin Mini, which hit the roads in 1959. This offered four seats for adults and offered cheaper, more practical transport over long distances.
The MOC celebrates its 60th anniversary next year after being set up to promote interest in the brand.
Beaulieu is one of the cradles of British motoring. Besides its iconic museum, the Hampshire village venue is also host to some big dates in the motoring calendar.
These include Simply Ford , Supercar Showdown and Simply Pink .
Copyright Press Association 2015
%20http:/www.messerschmitt.co.uk/ (MOC)