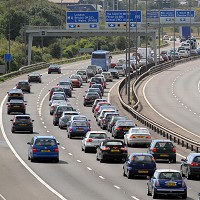 British motorists will drive their own vehicles 15.7 billion miles to go on holiday this year, new research suggests.
Kwik-Fit claims UK motorists will travel 1,082 miles on average during the year and most of these miles will be driven during 'staycations' - British people holidaying in the UK.
Some 13.2 million cars will be used on holidays in the UK, while 2.2 million, 550,000, 520,000 and 390,000 will drive on the roads of France, Germany, Spain and Italy respectively.
It is extremely important motorists have breakdown cover in place for wherever they plan to drive this summer.
The survey suggests the south west of England is the most popular destination for domestic holidays.
More than a quarter of holiday car journeys will be heading in the direction (28%), while just over a fifth (21%) will be heading to the south coast of England and 20% and 19% of journeys will cross the borders into Wales and Scotland respectively.
Around 16% of car trips will be heading for the Lakes, 14% for the Yorkshire Dales and 13% of journeys will be made during breaks in the Midlands.
Drivers living in the West Midlands are likely to travel the most miles in their cars this summer, 1,322 on average, while Welsh motorists are only expected to drive 722 miles on average.
Copyright Press Association 2014