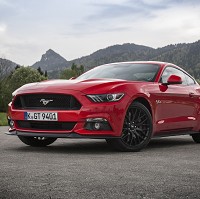 Almost two thousand British drivers are awaiting delivery of the new Ford Mustang, which will make the journey across the Atlantic later this year.
The latest version of the iconic muscle car promises performance, refinement and efficiency that the automaker says will redefine a legend - and for the first time ever in its 50-year history, be available in right-hand drive.
Demand has been higher than anticipated. So much so in fact, that Ford of Great Britain has asked the production line in the United States to make extra right-hand drive models so as not to disappoint buyers.
The newcomer is available with a 2.3-litre EcoBoost engine or 5.0-litre V8 engine, with prices starting from £29,995 and £33,995 respectively.
Nearly three-quarters (70%) of buyers in the UK have opted for the latter, which boasts an impressive 410bhp. They have predominately paired it with the six-speed manual gearbox for the full performance experience, while two-fifths (40%) have chosen the automatic.
The EcoBoost engine is expected to grow in popularity once the initial wave of orders passes.
More than half of Brits have added the Custom Pack to their purchase, which includes satellite navigation, uprated stereo, heated and cooled front seats, rear view camera and Luster Nickel alloy wheels.
Red is the most popular colour, followed by silver and black. The first UK-spec Mustangs will arrive in November.
Copyright Press Association 2015