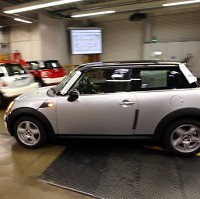 Changing lifestyles in the UK have created an increased demand for smaller cars, according to a new report.
Market research company Euromonitor International, said that between 1999 and 2009 small cars went from accounting for less than 30% of the UK passenger car market to more than 40%.
Automotive industry analyst Neil King said: "Even without the stimulus of a scrappage incentive scheme, consumers continue to switch from lower medium cars to offerings in the supermini and even mini segments.
"Combined, they increased their share of the market again in 2012 - back up to 40%. As vehicles have grown in size, right-sizing is a more appropriate term than down-sizing."
An increase in the number of one and two person households, more women maintaining an independent lifestyle and the growth in the younger generation have all been suggested as factors shaped changing trends in the UK's car market.
"There are plenty of opportunities for car manufacturers to capitalise on this growing automotive market trend. Small but distinctive cars such as the Citroen DS3, Nissan Juke and the Mini are just some of the successful small models in mature markets such as the UK," King explained.
Copyright © Press Association 2013