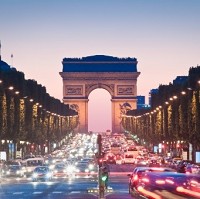 More than 50% of UK drivers have committed a driving offence while travelling in continental Europe, a survey by Opinium has found.
More than 1,000 Britons who have been behind the wheel while in Europe were surveyed. Of these, 53% committed at least one traffic violation while driving and 29% of this majority figure admitted to committing three or more violations. One of every 10 drivers polled (11%) said the police had pulled them over while they were driving in continental Europe.
The top five Euro driving violations:
Exceeding the speed limit - 31%;Driving without enough petrol - 18%; Driving with a sat-nav speed camera alert device - 14%; Driving inebriated - 9%;Police stop the driver for speeding - 6%
Men commit the most offences when driving abroad, with 59% violating the rules compared to 41% of women motorists. All travellers planning a European driving trip should take out European breakdown cover before they leave home.
When asked if driving in Europe was more enjoyable than driving in the UK, only 20% said it was more pleasant. And 23% of women drivers said driving on the right side of the road was hard. One in 10 female drivers said they'd never get behind the wheel again in Europe.
Copyright Press Association 2012