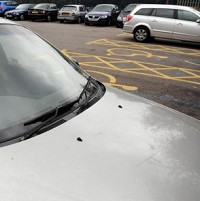 Disabled drivers are paying the price of motorists' widespread parking confusion, a new poll suggests.
Most motorists (62%) think the UK's parking regulations are perplexing, according to the British Parking Association (BPA) survey.
More than four in 10 drivers admit to parking in a space that they were not allowed to, including an ambulance space or disabled bay, the report found.
Graham Footer, chief executive of Disabled Motoring UK, said it is important that people grasp the consequences of selfish parking.
But motorists' worst fault is parking across two bays, with well over half of them (57%) admitting to this, while 35% confess to double parking.
The BPA has launched the report to coincide with its new 'know your parking rights' initiative.
Patrick Troy, the association's chief executive, said he wants parking rules to be made as simple as possible.
RAC spokesman for external affairs Pete Williams said: "Parking a car should be a relatively straightforward task, but it has become a motorists' minefield in 21st century Britain due to increasing restrictions. There is also a serious problem with a lack of spaces as urban councils seek to discourage people from using their vehicles in town and city centres.
"The cost in some areas is also bordering on prohibitive and in the Report of Motoring 2014 we highlight that 80% of motorists reported increasing parking charges in towns and cities. Two thirds of these drivers (67%) also believe there is now less parking close to their town or city centre and that parking restrictions have become more stringent where they live, and a quarter (24%) feel state traffic wardens are now more active in their area.
"The result of this 'parking squeeze' is inevitably going to be more inconsiderate parking as motorists become frustrated - although clearly there is no excuse for blocking bays reserved for the emergency services or disabled drivers. The results of the research by the British Parking Association suggest there is a real need for a much clearer process to be put in place for those who do incur a parking fine to make an appeal.
"It's also important to ensure the regulations and restrictions are set out in plain English in the first place so that drivers are not confused or end up contravening the rules by mistake."
Copyright Press Association 2014