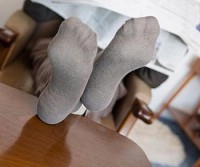 Official figures have shown that British people are travelling less within the UK than they did in the early 1990s.
The Department of Transport revealed that in 2008, the average distance travelled was 6,923 miles, compared with 7,103 miles in 2007.
The time spent travelling, on average, also decreased from 23.3 minutes in 2007 down to 22.7 minutes in 2008. Distances travelled also dropped to seven miles compared to 7.3 in 2007, including walks, road, rail and UK air travel.
The figures also showed:
:: Between 1995/97 and 2005 the number of households without access to a car fell from 30% to 25% and the amount of households with two or more cars increased from 25% to 32%.
:: Since 1995/97 the number of men with a full driving licence has remained at around 81%, but among women it lifted from 57% to 65% in 2008.
:: In 2008, car travel accounted for 63% of all trips made and almost 80% of distance travelled.
Copyright © Press Association 2009