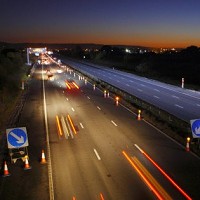 The number of deaths on British roads reached a record low last year, according to the latest figures.
There was an 8% fall from 2011 to a total of 1,754 deaths in accidents reported to the police in 2012, the Office for National Statistics (ONS) reported.
The overall number of road casualties, which includes deaths, serious injuries and slight injuries, fell by 4% to 195,723, while there was also a slight fall of 0.4% to 23,039 in the number of people seriously injured.
Last year was the second wettest year on record - and while at first glance it may be assumed that would result in a rise in road accidents,car insurance claims and vehiclebreakdown cover emergencies, in fact it may have been key to the reduced casualty figures.
The Department for Transport, which released the figures on the ONS website, said it was likely that the rainfall meant there were fewer pedestrians, cyclists and motorcyclists on the roads.
Julie Townsend, deputy chief executive of road safety charity Brake, said the reduction was welcome but pointed out that "we must aim for zero, because no death or serious injury is acceptable".
Copyright © Press Association 2013