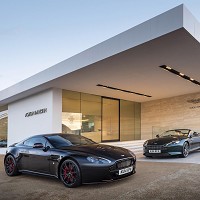 Cars built by British manufacturers have topped a list of those 'to be seen in', if you want people to believe you're successful.
Auto Trader surveyed some 1,024 drivers and found that British manufacturers beat off the likes of Ferrari Lamborghini and Porsche to claim top spot when it comes to desirability.
An Aston Martin is the car most people believe is the sign that you've made it; followed by a Bentley.
Rolls Royce rounds off the all-British top three.
Other car manufacturers in the top ten are BMW, Ferrari, Audi, Jaguar, Mercedes, Lamborghini and Porsche.
The survey also found that 70% of people consider a car a status symbol, while half of those surveyed believe someone who drives a flashy car is an independent individual, while a third find them more attractive.
Copyright Press Association 2014