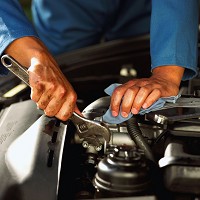 A new poll suggests many British are happy to carry out basic mechanics under the bonnet of their own cars, rather than take their vehicle straight to a garage.
The RAC survey found that 70% of people were prepared to get stuck in and more than half of 2,000 drivers surveyed could check and top up the oil in their car for themselves.
Less frequently undertaken tasks included fitting a new wheel, which just under a third (31%) said they would do, changing the battery, which 27% would attempt, and more complex tasks such as adjusting fan belt tension (12%) or installing new brake pads (9%).
It seems the rise of the 'have-a-go handymen' is related to the belief, held by nearly one in four people, that professional mechanics 'rip-off' naive drivers, and the increasing cost of motoring in general.
Regular car maintenance can help to prevent problems, but is no substitute for suitable breakdown cover.
David Bizley, RAC technical director, comments: "It is great to see that Britons are taking an interest in how their vehicle works and undertaking many of the simple checks and maintenance tasks which can prevent breakdowns. However, the rising cost of motoring is obviously taking its toll on drivers, and more must be done to ensure that owning a car in the UK is affordable for all."
Copyright Press Association 2012