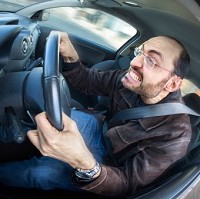 Britain heads a league table of the world's worst countries for road rage, with over three-quarters (76%) of drivers claiming they have experienced aggression from other motorists.
A survey of over 3,000 motorists across 20 countries shows that people in France are almost as likely to be exposed to rude and aggressive behaviour.
As many as 73% of French motorists say they have been impacted by such attitudes, compared to just 43% of German drivers.
RAC head of external affairs Pete Williams says: "Clearly it's disappointing to see the UK doing so badly in this survey and our own research in the 2014 Report on Motoring suggests a lot of motorists agree that overall driving standards have slipped in the last five years.
"In fact two thirds (65%) believe that anti-social behaviour, including road rage, is actually becoming more common and 62% think the courtesy of other drivers has gone downhill.
"But what we also have to consider is the high volumes of traffic on our road networks, and the increased time spent in queues at those pinch points around the country that are responsible for seemingly endless traffic jams. Of course there is no excuse for aggressive or dangerous behaviour on the road, but it could be the case that some motorists are finding themselves increasingly frustrated by levels of congestion adding to issues such as the cost of motoring."
Almost three in four (73%) British drivers claim they have been blocked-in behind the wheel, and 53% have been on the wrong end of verbal aggression .
The latter compares with just 44% and 47% in France and Germany respectively.
Turks were found to be the drivers showing the most politeness, with under a quarter (23%) being subjected to aggression. Portugal was second with 24%.
Copyright Press Association 2014