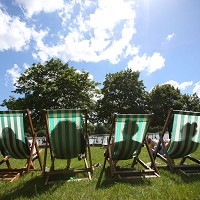 The Met Office says most parts of Britain will enjoy warm and dry weather over the coming week - after flooding led to traffic chaos in the south-east of England over the weekend.
Heavy rain left people stranded in their vehicles, while homes and roads were flooded and many properties damaged by lighting strikes.
However, the Environment Agency has now removed half of its flood alerts - which warn that flooding is possible - with 23 remaining in the South East.
Three flood warnings - which advise that flooding is expected and immediate action is necessary - are also in place in the North East and East Anglia.
The Met Office has also removed its severe weather warnings and predicts sunshine and warm weather for most of Monday, except for some isolated showers in the East of England.
It added that temperatures could rise to up to 30C (86F) later on in the week - which could lead to more thunderstorms in the South on Wednesday and Thursday.
Copyright Press Association 2014