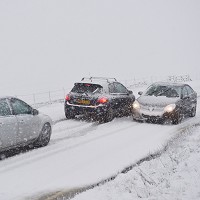 Weather-related road incidents could soon be on the rise again with a trend towards more extreme winters predicted for the future.
Scientists are warning there is no longer such thing as a 'typical British winter', as in recent years the season has become unpredictable and volatile.
This year temperatures were generally mild but there were tumultuous storms, whereas in 2012 Britain suffered one of its coldest winters on record.
Breakdown cover is ever important during the winter as cold snaps generally coincide with car battery faults.
Researchers say seven out of the 10 most extreme winter conditions in the UK over the previous 115 years have all happened during the last decade.
It's too early to conclude whether the cluster of extreme conditions is because of global warming. However, the study suggests that the trend is unlikely to have occurred by chance.
The pattern could be the result of a fluctuating climate system or it may be down to changing pressure and weather systems over the Arctic.
Copyright Press Association 2014