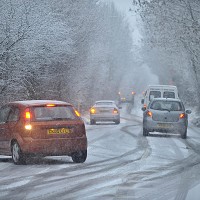 Wintry showers could return to the UK later this week, motorists are being warned.
Some parts of the country will struggle to get above freezing on Wednesday and Thursday, with snow and freezing rain possible on high ground, according to Meteogroup, the weather division of the Press Association.
But the cold weather is likely to break on Friday, leading to a warmer but wetter weekend.
Sally Webb, a forecaster at Meteogroup, said today and tomorrow will be mainly clear and dry, with some showers on the North Sea coast.
But Wednesday will bring more cloud in southern England and Wales and the chance of wintry showers over high ground in Scotland and northern England in the afternoon after a clear start. The weather is expected to lead to tricky conditions on the roads and an increase in calls to breakdown service providers.
"Things start to change on Thursday, the cloud will thicken up before moving south and there are some light showers moving on ahead of a band of rain," she said.
"Some of those could be wintry or freezing rain."
Daytime temperatures in northern England and Scotland could struggle to top 2C (36F) on Wednesday and Thursday, she added, with some isolated spots failing to get above -1C (30F).
Copyright Press Association 2012