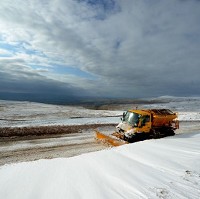 Winter will continue its grip over spring this weekend with further unseasonable weather across many parts of the country.
Snow, sleet, rain and floods will batter Britain with strong winds making the cold weather appear even chillier.
Only the south-coast and areas of Lincolnshire and East Anglia are expected to escape the 8cm of snow due to arrive after Friday night.
Gusts of winds of up to 50mph are due in central England, with winds reaching highs of 60mph in Wales and 65 mph in Scotland.
Before the onslaught of snow, the south-west of England will endure flooding caused by heavy and persistent downpours.
The band of rain will turn to light snow when it reaches northern Wales and northern England.
Sally Webb, weather forecaster for MeteoGroup, the weather division of the Press Association, said hat the outlook for the next few days looked bleak.
She said: "Britain will see scattered snow, sleet and rain but nothing significant until Friday night. Between one and four cm will fall quite widely across England, Wales and Scotland."
Copyright © Press Association 2013