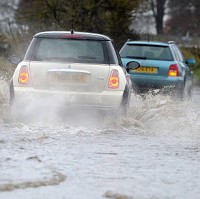 Britain has been warned to expect more flooding as torrential rain sweeps across the nation for a second day.
The UK was hit by heavy downpours yesterday, with homes flooded and roads left submerged underwater. Forecasters have predicted more of the same today.
Sally Webb, forecaster with MeteoGroup, the meteorological division of the Press Association, said: "The South West and Wales are going to be the worst hit, and it will also be slow to clear from Scotland."
The Met Office warned up to 60mm (5in) of rain could fall in some areas, leading to further risks of deluges. A low pressure system will move eastwards across the country, with gusts of up to 70mph and extremely heavy rain expected.
The treacherous conditions caused major problems on the roads on Wednesday, withbreakdown companies reporting over 30% more calls than usual.
Roads were said to be impassable around the M5 corridor and in south Birmingham and Worcestershire, while flooded roads created difficulties for other motorists, with some forced to abandon their vehicles.
Meanwhile, there were reports of entire villages being flooded as water gushed through streets and into homes.
Copyright Press Association 2012