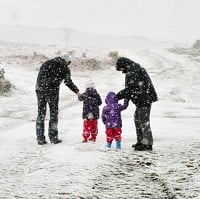 British motorists have been warned to be on their guard this weekend as plunging temperatures prepare to cause havoc on roads across the country.
Meteorologists claimed all parts of the UK could be at risk of freezing temperatures and snow over the coming days, with Scotland and the east coast of England facing the brunt of the weather.
Despite an unusually mild and dry start to the year, forecasters expect sub-zero temperatures to create hazardous driving conditions ahead of the next working week.
Sean Penston, a forecaster with MeteoGroup, the weather division of the Press Association, said: "The minimum temperature in the UK will be into minus figures. By Sunday it could be minus 4 (25F) or minus 5C (23F) in some parts.
"There's more of an easterly wind coming in, with the possibility of snow showers by the weekend and the start of next week."
The forecaster said the west of England should be "a bit more sheltered from the conditions" as a bitter wind prepares to whip in from the east.
Copyright Press Association 2013