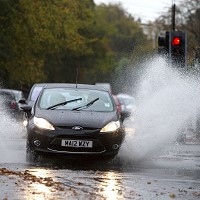 Motorists in the south east of England are being warned to expect heavy rainfall and surface water on roads over the weekend.
The warning for heavy rainfall on Sunday came as other parts of the country were battered by gales. Clean-up operations in areas hit by tornadoes are already under way.
Meanwhile, the south west of England could see gusts of up to 50mph on Friday and the Environment Agency has warned of possible flooding.
The worst flood warnings are for rivers in the south of England and Wales. There are 11 warnings of expected floods and another 60 of possible flooding.
Tornadoes struck in Alfreton in Derbyshire, the Wirral and the Cumbrian village of Haverthwaite on Thursday, according to the Met Office. The tornadoes were captured on film in some places.
The roof was torn off a house in Alfreton and firefighters spent much of the day making sure buildings in the town were safe.
Forecaster MeteoGroup said Thursday offered the perfect conditions for tornadoes, and it doesn't expect a repeat in the coming days.
The weather is expected to calm down as the weekend draws to a close, with forecasters predicting that winds will "likely die down" and heavy downpours will relent.
Copyright Press Association 2014