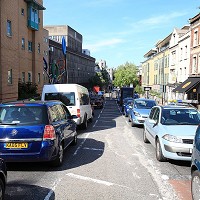 Motorists are to be banned from roads in Bristol for one day every month in a bid to encourage the local community to enjoy the space.
The initiative - called Make Sunday Special - is the brainchild of elected major George Ferguson, who took inspiration from similar traffic-free schemes in Bordeaux in France and Bogota in Colombia.
More than 10 streets will be closed in the city centre on one Sunday every month, with the installation of an urban loop for locals to run, cycle, skate or even unicycle around.
"I want to see a city centre that is buzzing with life and activity," said Mr Ferguson. "I've seen it working in our twin city of Bordeaux on the first Sunday of every month, and in Bogota, Colombia they transform the street every weekend.
"Bristol city centre was designed to be enjoyed. With traffic-free streets and plenty of activity, it will open up a world of new possibilities for creative, active and organised groups and others to get out in the fresh air and show us what they can do."
Signs will mark out the urban route around the city, allowing people to run, cycle, skate or unicycle safe from car traffic. The initiative will begin on June 23 and end on October 20, with plans to extend the scheme if it proves successful.
Copyright Press Association 2013