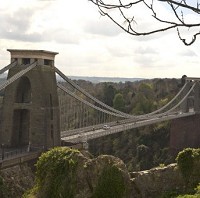 Motorists in Bristol are the least likely to be hoodwinked by unscrupulous car salesmen, according to new RAC research.
Bristolians beat off second-place Oxford and third-placed Birmingham to top a new table of the nation's savviest second-hand car buyers.
It seems the West Country city's drivers check vehicle histories more frequently than anywhere else in the country before buying a car that has been previously owned.
On average, they are almost three times more likely to examine a pre-loved motor's history than motorists from Newcastle.
The information was taken by studying purchases of RAC Car Passport , the RAC's latest new car record check service.
It can save drivers hundreds or even thousands of pounds in the long term by steering them away from stolen, scrapped or written-off machines.
In addition, RAC Car Passport's buyers can take advantage of an independent valuation from the trusted company Glass's and find any recurring faults in the car.
Motorists bought 1.9 million used cars from July to September last year with sales now at their highest for seven years.
Rob Diamond. managing director of RAC's Car Passport, said: "Motorists can never be too careful when purchasing a used car, but fortunately there is enough help out there to make the used car buying process much less stressful - and dramatically boost the chances of not spending money on a lemon.
"It is also interesting to see the extent to which used car buyers are seeking extra confidence when buying from certain dealers.
"Generally, dealers are meant to take some of the uncertainty out of the car-buying process, but our data suggests that motorists still need a lot of reassurance before they are prepared to part with their cash.
"This also sends out a powerful message to many dealers to give their prospective customers as much information about the vehicle they are buying as possible - the cost to a dealership in obtaining this is minimal, and can make the difference between a sale and the customer walking away."
Mr Diamond went on: "Our message to motorists looking to buy used is clear: by making sure you've got a full data check for the car you can be a lot more confident about your purchase."
Motorists were warned by the RAC three months ago against "blindly" buying a second-hand motor. This followed research which found that around seven in 10 private purchasers bought cars without a history check. Such cars could expose them to the risk of a write-off or one with finance still owning on them."
London, Leicester and Southampton came fourth, fifth and sixth respectively. Coventry, Bradford, Bournemouth and Nottingham made up the top 10.
Newcastle as well as Edinburgh were the big cities where motorists are most likely to buy on trust.
Copyright Press Association 2015