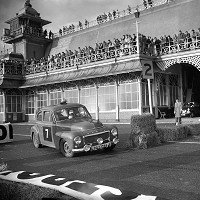 Britain's longest-running motorsport event has been saved thanks to a crusade backed by thousands of people.
The Brighton Speed Trials will run in September, and for the following two years, after it was finally given the green light by Brighton and Hove City Council.
Amid fears that it may be scrapped, organisers launched a campaign to save the historic annual event that first began back in 1905.
Over the years it has gained international acclaim for showcasing top-class cars and motorbikes racing over a quarter of a mile stretch at Madeira Drive on Brighton's seafront.
A public outcry saw in excess of 12,400 people back a petition by the Save the Brighton Speed Trials campaign, while more than 7,000 people "liked" the campaign's Facebook page, eventually persuading the local authority to grant approval.
Brighton and Hove City Council had initially sought to ban the event from taking place on the seafront.
Tony Watts, of organisers the Brighton and Hove Motor Club, hailed it as a "major victory" for all concerned.
Supporters included the likes of Sir Stirling Moss, local bestselling author Peter James, Tiff Needell of Fifth Gear, Nick Mason of Pink Floyd and Top Gear's The Stig.
Copyright Press Association 2014