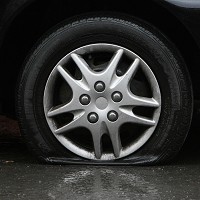 The use of plastic spokes inside tyres could lead to motorists never again having to suffer the inconvenience of a puncture.
A frame of spokes supporting an outer casing within the rubber means the tyre would be unable to deflate.
The idea is being worked on by manufacturer Bridgestone which says the new tyre's exterior appearance is the same as any other.
The spokes are made from recyclable thermoplastics, suggesting that the airless tyre would not damage the environment in the way current versions do once it reaches the end of its life.
Bridgestone also says the new design incorporates a tread which allows the vehicle to roll more, having less resistance on the road, and therefore helping to reduce vehicle emissions.
Road trials of the prototype will be staged next year, the firm added.
Copyright Press Association 2013