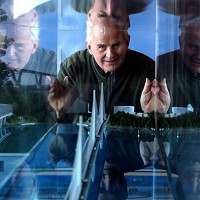 Motorists in both Northern Ireland and Scotland could both soon benefit from an easing of congestion, thanks to bridges.
One, proposed for Belfast's York Street, promises to ease what is among the capital's most hectic road junctions.
The other, the in-progress Queensferry Crossing - or replacement Froth Bridge, linking Edinburgh to Fife - has reached the halfway point in its construction.
Drivers heading to York Street's interchange typically share it with 100,000 other drivers each day.
But the £125-£165 million York Street scheme - with an estimated construction time of three years - would provide direct roads linking the M2, M3 and the Westlink.
It could also offer a fresh city-bound bus link as well as enhanced biking and pedestrian facilities.
Danny Kennedy, Northern Ireland's Regional Development Minister, calls the project among the country's "most ambitious" for decades.
Meanwhile, the three towers of Scotland's Queensferry Crossing have all reached over halfway of their projected 210-metre height.
Keith Brown, the Infrastructure Secretary who made the progress report announcement, said a visit to the site had given him a true impression of its "sheer scale".
The bridge is expected to be finished next year.
Copyright Press Association 2015