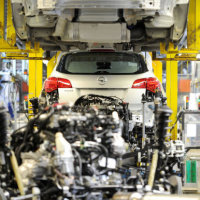 A vote to leave the European Union (EU) could push the UK's thriving car industry out of the fast lane, a top economic adviser is warning.
Writing in the The Telegraph, Andrew Sentance - PwC's senior economic adviser - says a Brexit could threaten both overseas investment in Britain's car industry and vehicle exports to Europe.
Recent figures show that UK car production totalled nearly 150,000 in April - up 16% compared to the same month in 2015 - with the Society of Motor Manufacturers and Traders (SMMT) saying that the increase had been driven by surging demand from European motorists.
That monthly rise took the total made in British factories during the first four months of 2016 to 588,000, with the number built for export up by nearly 24% compared to the same period last year.
Last year saw a record 1.2 million cars exported from the UK and the industry's success has prompted predictions that it is on course to produce a record two million cars and small vans in 2020.
But Mr Sentance is warning that hopes of achieving that growth could be dashed if voters decide to leave the EU.
Ending the UK's membership of the EU, he argues, could reduce manufacturers' access to lucrative European markets, which last year accounted for nearly 60% of all car exports.
A Brexit, he writes, could also result in major car manufacturers and other foreign investors rethinking their UK investments.
Firms such as Nissan, Honda and Toyota, he says, have ploughed money into the UK and chosen it as a major production location because of the full access to the Single Market that EU membership brings. However, he adds, if that were to change, so may the plans of those firms to carry on investing in Britain.
Copyright Press Association 2016. Motoring News articles do not reflect the RAC's views unless clearly stated.