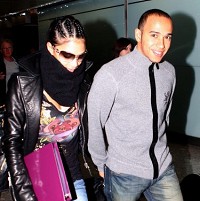 Lewis Hamilton's secret meeting with his ex Nicole Scherzinger has been uncovered - after his car broke down outside her hotel.
The high-profile couple ended their five-year relationship in July, blaming their hectic work schedules.
But they sparked rumours that they had rekindled their romance after Hamilton, 28, was spotted in the street outside the London venue where the pair were seen earlier that evening.
He was seen standing next to his car in the early hours of the morning, cradling his pet dog Roscoe, as his driver tried to get the vehicle back on the road.
They tried to restart the car with jump leads but eventually gave in and called a mechanic, reminding us that even F1 drivers are sometimes forced to rely on theirbreakdown cover .
The Sun reported that Scherzinger, 35, and Hamilton were seen arriving at the hotel within minutes of each other last Monday night.
A source told the newspaper: "There's something that keeps pulling them back together, it's as if they can't resist each other."
Copyright Press Association 2013