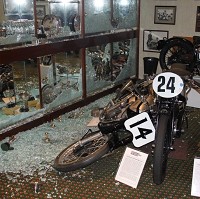 Thieves have stolen "priceless" trophies, TT replicas and items of motorsport heritage from the National Motorcycle Museum in Solihull, causing thousands of pounds worth of damage in the process.
Museum chiefs have offered a £20,000 reward for information leading to the safe recovery of the artefacts, which are believed to have been stolen at around 11pm on Wednesday evening.
Staff are putting together a list of missing items and cleaning up after what has been described as a "rough job" robbery.
Most items were inscribed with details of their owners, and there is a significant worry that the thieves intend to sell the items for their relatively low scrap value, meaning that they may be melted down.
James Hewing, museum director, said: "Although the trophies may not have much meltdown value in metal terms, they are priceless when it comes to the heritage of the sport and the rich motorcycle heritage of the UK."
Despite major damage to the main entrance and lobby display cabinets, the museum is open as normal on Thursday morning - with the thieves unable to access its main body.
Anyone with information can call the police on 101 or Crimestoppers anonymously on 0800 555 111.
Copyright Press Association 2014