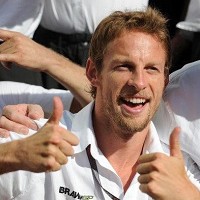 Brawn GP are looking to tie down Jenson Button to a long-term contract following the Briton's five wins in the first six races of the Formula One season.
The 29-year-old took a £5 million pay cut to join the Brawn GP team, which formed from the remains of Honda. The Japanese manufacturer withdrew from Formula One, ripping up Button's £8 million annual contract.
Button has built up a lead of 16 points in the world championship, with race wins in Australia, Malaysia, Bahrain, Barcelona, and most recently in Monaco. Now Brawn GP hinted that they would like to extend his one-year contract and increase his salary in the process.
"Jenson's been with us a long time, and we've had failures and we've had successes," said Brawn GP chief executive Nick Fry. "It's mutual that he would like to stay with the team, and after five race wins, we should be able to get something together."
"I'm sure he and his manager are sitting there thinking his price is going up the whole time," said Fry. "But maybe the sponsorship for the team is going up too, so maybe we can afford it."
Copyright © Press Association 2009