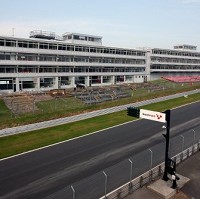 The man allegedly involved in a video which shows a VW Polo entering the Brands Hatch track during a race has been charged.
The stunt has landed 21-year-old Jack Cottle, of Wadhurst in East Sussex, with a court appearance before Sevenoaks magistrates on Monday, September 22.
Cottle has been charged with causing public nuisance following his arrest for suspected false imprisonment in June.
A male motorist allegedly entered Kent's ex-Formula 1 track driving his then girlfriend's vehicle while other cars were competing in the Fun Cup event.
The 197-second YouTube footage seems to show a woman screaming and begging the motorist to stop while background noises of male laughter abound.
Motor racing expert Will Buxton wants to know how the Polo managed to get onto the track unmolested.
The incident provoked outrage on social media sites.
Copyright Press Association 2014