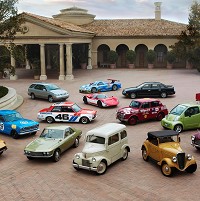 More than 100 Nissan cars are featuring in a global brand event launched by the company to mark its 80th anniversary.
The event in California boasts cars fromNissan 's past, present and future with new and milestone models from the company's three brands - Nissan, Infiniti and Datsun.
2013's Nissan 360 global brand showcase event, which lasts for a month, will provide insight into safety systems, connectivity in cars, and automation at exclusive briefings open to stakeholders.
Strategies will be the subject of briefings concerning group brands like luxury premium car maker Infiniti, and Datsun, targeting entry level markets.
Nissan president and CEO said the company is at the cutting edge of automotive technology, with exciting prospects that will help shape the use, brand appeal and environmental impact of vehicles.
Copyright Press Association 2013