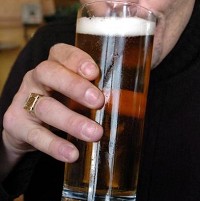 With the biggest date in the footballing calendar just hours away, a road safety charity is warning soccer fans that alcohol and driving should never mix.
The tournament in Brazil is expected to be one of this summer's highlights, with millions of people watching the games live on television in the UK.
But Brake says that drivers who are tempted to have an alcoholic drink at any point should think again.
Last summer police breathalysed 100,892 drivers, with 5,170 failing the test, but a new campaign launched this year is bidding to reduce the number of people caught with alcohol in their system.
The month-long campaign coincides with the World Cup, which starts on Thursday.
There will be increased roadside checks on motorists, with police checking for drink and drugs. The police will also be out in force to inform drivers about the dangers of drink and drug driving.
Julie Townsend, deputy chief executive of Brake, says drink driving is still a major problem and the cause of many deaths on UK roads.
According to Brake, even if you only have a tiny amount of alcohol in your bloodstream, your judgement and reactions can be seriously affected.
Copyright Press Association 2014