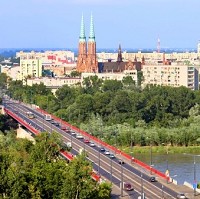 The European cities with the highest peak-time traffic congestion have been revealed by satnav firm TomTom, with Istanbul, Warsaw and Marseille topping the list.
The finding may surprise UK drivers as British cities fare better than many places on the continent.
TomTom compiled the data from millions of traffic routes and compared the difference in traffic between busy and non-busy periods to come up with its congestion figures.
These figures show a 57% increase in traffic during rush hour in Istanbul, a 45% rise in Warsaw and a 40% rise in Marseille.
The UK area which features highest in the list is the Leeds-Bradford conurbation, with a 27% rise in peak period traffic levels.
London's traffic increases by 26% during rush hour compared to its non-peak periods, but Paris and Rome both suffer congestion rises of 34% during peak hours.
Copyright Press Association 2012