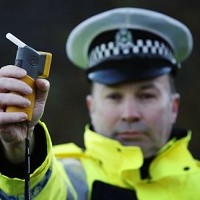 Kent Police have arrested a motorist as young as 15 as part of their anti-drink-drive campaign this Christmas.
The Greenhithe boy was pulled over on Sunday charged with various motoring offences. These included drink-driving, motoring with no insurance or licence, and theft.
If Chatham Youth Court's justices convict him of the drink-drive offence, he faces a fine of up to £5,000, a driving ban of at least 12 months and possibly even a prison term.
The teenager has now been bailed to attend court during January 6 after being arrested at 4.10am.
He is one of 32 drivers who have been detained on suspicion of drink-driving, 29 of whom are male.
Matthew Kendall, a Chief Inspector, said that even a solitary alcoholic drink does not justify the risk of taking control of a car. He recommends that motorists do not drink and drive at all.
Chief Insp Kendall said that Saturday night was the busiest of the campaign so far with 10 motorists arrested.
Copyright Press Association 2014