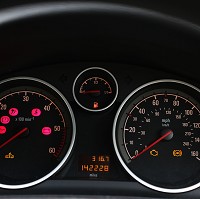 Drivers who use a rooftop cargo box to carry extra luggage when taking the family on holiday can save as much as a fifth on their fuel costs by removing it when they get home, Ford Motor Company reveals.
The manufacturer says it is one of four simple things motorists can do to use around a third less fuel and save more than £800 a year.
The other three tips are shopping around for petrol; regularly checking tyre pressures and removing any unnecessary weight from the car, which can save fuel use by 7%, 4% and 2% respectively.
Ford surveyed 5,700 drivers in the UK, Italy, Spain, France and Germany and found that three quarters (76%) don't check the pressures of their tyres on a regular basis; 38% leave empty roof boxes on their cars; 18% fail to shop around for the cheapest petrol and diesel prices and 17% drive around with excess weight.
Nearly three quarters of motorists speed (71%), two in five drive further than they need to (42%), 39% admit to driving aggressively and 14% leave their air conditioning on when they don't need it.
All four actions can also reduce fuel consumption. Using the RAC Route Planner can help drivers find the most economical route to their destination.
The poll found that by doing all they can to reduce consumption, drivers can knock as much as £820 off the typical £2,500 annual cost of fuel.
Copyright Press Association 2014