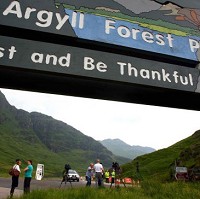 Safety experts have blown up a huge boulder that was perched above a major road alongside a Scottish beauty spot.
Inspectors discovered the 150-tonne rock on the The Rest and Be Thankful mountain pass after a landslide hit the A83 linking Tarbet with Campbeltown on December 30.
The rock measured 3.96mx3.96m and balanced 175m over the A-road.
Officers shut the A83 as they undertook safety checks during the day, while they could still see the extent of hazards caused by the slope and leftover boulder fragments.
It meant that motorists had to take a detour to the adjacent Old Military Road in daylight hours.
But both roads were shut after dark as a safety precaution to give workers more time to carry out risk assessment during the following day.
Night-time drivers were diverted 50 miles through the A82 linking Glasgow with Inverness.
The Old Military Road continued to be shut into the night after the explosion due to the scale of some larger pieces of rock debris.
This included one which was about a third in size compared to the exploded boulder.
The detonation was carried out after officers inserted small explosives in around 30 holes drilled into the boulder.
Bear Scotland, the road maintenance firm, says everything has been done to ensure the explosion and subsequent safety checks were finished in the shortest possible time.
Copyright Press Association 2016. Motoring News articles do not reflect the RAC's views unless clearly stated.