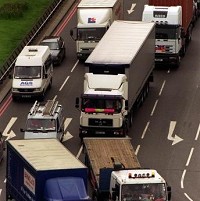 The cleanest haulage firms should get congestion charge discounts, the transport industry is urging Boris Johnson.
The Freight Transport Association (FTA) says this would reduce the capital's pollution problem straight away, as well as incentivising transport businesses to go greener.
The Mayor of London aims to make London Europe's Ultra-Low Emission Zone (ULEZ) capital by bringing in such areas in five years' time.
But the FAT says this dream could be accelerated by Mr Johnson offering sweeteners to cleaner lorry firms whose drivers head to London.
The Mayor has already launched a number of 20mph speed-limit zones around the city in a bid to reduce vehicle emissions.
Rachael Dillon, the Association's manager for climate change strategy, says offering the appropriate incentives would get the transport industry on-side with Mr Johnson's plans.
Ms Dillon, talking after Wednesday's ULEV delivery proposal launch, said the current scheme could send haulage costs spiralling, whatever its "fantastic benefits" to the environment.
She says that scarcity of refuelling stops, reliability concerns and large vehicle costs are all deterring companies from making the switch to lower-emission vehicles.
Ms Dillon said that the ULEV launch is a great chance for both London and UK governments to go further with their incentive offers to fleet operators. This would make the business argument for greener tech and fuels more irresistible. "Why wait?" she said, adding that air quality could be improved immediately.
Transport for London's (TfL) plan to make ULEVs a reality includes bringing on board more fleet and freight operations.
The FTA is already taking part in this summer's Low Emission Commercial Vehicle Programme as part of this plan. This intends to speed-up the manufacture and stock of electric refuelling points and eco-friendly commercial vehicles.
Ms Dillon claims that several existing fleets are running Euro VI trucks.
With the proper motivation such fleets could switch their cleanest trucks to London and immediately make the capital's environment cleaner, she added.
As it stands, freight operators have had no inducements to change to cleaner commercial lorries since the 2010 Alternative Fuel Discount.
Congestion Charge discounts are only applicable to cleaner cars.
Copyright Press Association 2015