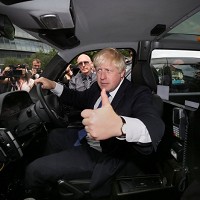 A little knowledge has gone a long way in the case of the official taxi drivers' test - 150 years to be precise.
Thursday saw the landmark anniversary of The Knowledge. London's taxi drivers are essentially expected to have a in-built journey planner and correctly memorise the capital's streets before they qualify.
Boris Johnson marked the event by posing for the cameras. The London Mayor also met newly-qualified black cab drivers, for whom he was full of praise.
The challenging memorising process can take up to four years, and four out of five applicants fall out after stage one.
The six-part Knowledge test requires taxi drivers to memorise 100,000 landmarks and 25,000 roads within six miles of Charring Cross.
Mr Johnson called the test a "huge" mental effort, claiming the challenge "substantially" enlarges the brain of a typical taxi driver.
The taxi-driving profession looks like showing no signs of diminishing. Only this March it was announced that 1,000 new posts could be made through a new Coventry-based taxi-manufacturing factory . This would create new-gen electric, ultra-low emission black cabs.
Transport for London 's (TfL) Helen Chapman believes The Knowledge is an "incredibly difficult" degree-level-type examination. Ms Chapman, TfL's taxi and private hire general manager, disputed the notion that the taxi driving application procedure was out of date.
She says that cab drivers have outwitted sat-navs on every test she had seen, adding that The Knowledge is still unbeatable.
Ms Chapman said that sat-navs are mere guides or memory joggers, compared to the mind of a cab driver who had passed The Knowledge.
The six-stage test starts off with would-be cab drivers being given a special introductory pack - they are expected to learn 320 listed London routes.
Stage two expects applicants to undertake a written test based on knowledge of the destinations and routes outlined in the pack. One-to-one tests come between stages three and five. Applicants are asked to go between two places using the shortest route possible.
The final stage is another one-on-one test, this time examining drivers' grasp of 21 journeys on the periphery of the capital as well as four from Heathrow Airport.
Copyright Press Association 2015
https://tfl.gov.uk/ (Transport for London)