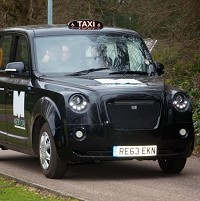 Boris Johnson has joined London taxi drivers in putting the new Range Extended Electric Metrocab through its paces with test drives.
Designed and built in Britain, the latest Metrocab is viewed as the future for public transport in London.
The city's mayor, Licensed Taxi Drivers Association general secretary Steve McNamara, and London Cab Drivers Club chairman Grant Davis toured Metrocab's testing centre in Surrey and tried it out as both passengers and drivers.
They were impressed by its power, ride quality and handling.
Mr Johnson described the "beautiful" Metrocab as the "Rolls Royce of taxis" before confirming it is capable of doing 100mpg.
Mr Davis said he had not driven anything quite like it before, while Mr McNamara said the Metrocab could be a real "game-changer" for public transport.
He thinks it is the future for taxis because it is environmentally friendly and quiet.
He added that it would be great in London where people often complain about being surrounded by noisy buses and diesel engines.
Copyright Press Association 2014